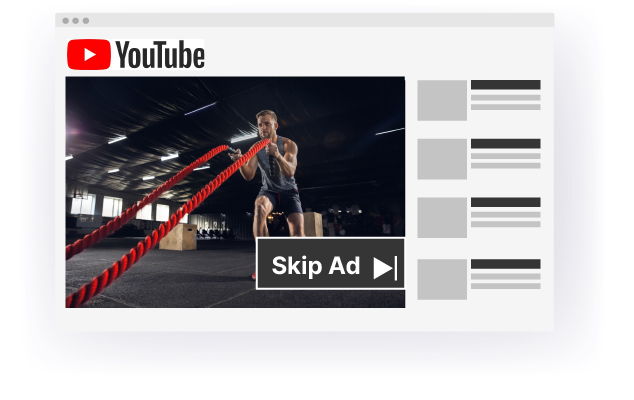 While LinkedIn offers similar advertising options like Facebook, YouTube works a bit differently. First things first – you'll probably be running video ads on YouTube.
Since YouTube is a part of Google (and a big one), you'll be advertising on YouTube using the Google Ads tool.
Now, what ads can you run on YouTube?
Advertising on YouTube
TrueView Ads
It's the most popular advertising option on YouTube – an ad that will play before the actual video people intend to watch. What's best about TrueView for users? They can skip this ad after 5 seconds. What's crucial for you? It would help if you made these 5 seconds count. If you can't get the user's attention in 5 seconds, you'll probably lose them – they'll skip the ad and won't think about it twice.
A TrueView ad comes with a CTA box that can redirect users to a dedicated landing page. Keep in mind that you will pay for the ad only if the user watches no less than 30 seconds (or views the whole video, if it's shorter) or if they somehow interact with an ad.
Pre-roll In-Stream ads
YouTube user's nightmare – non-skippable ads are in the same league as pop-ups or aforementioned InMail ads. They can get annoying, but they also work. People don't like getting interrupted while they're in the middle of watching, but they also can't help but watch the ad – not many users would switch to another tab to do something else while the ad is playing.
They don't want to miss the end of commercials (just like the old TV times), so they are – harsh words – forced to watch an ad.
If you decide to buy an unskippable ad, make it worth their while – use it for brand awareness rather than for selling the product (though, if done wisely, that might just work, too). Breaking the fourth wall may be an exciting idea (it's been done a few times but still isn't as popular as it should be).
Use the non-skippability to your advantage – end the ad with a strong call to action and take engaged users to a carefully-prepared landing page.
Bumper Ads
If you're eager to advertise on YouTube but don't have enough time or resources to create a long video ad, you may make a bumper ad, which is a 6-second video played before an actual video. You can complement the advertisement with the banner or CTA. Paradoxically, 6 seconds can be more than enough to say something that will encourage viewers to click.
What's next? A landing page. But that's a whole different story that you already know well.