Types of integrations
There are plenty of integration types available for landing pages: you can use them to track and analyze your landing page data, you can also send marketing e-mails automatically to acquired leads. And while we're at it: there's plenty of integrations that let you score leads, split them into categories, and manage them in many diverse ways. See the full list below:
Sending e-mails manually can work… for a day or two. After that you'd be dying to get a helping hand with that – and that's precisely what e-mail integrations do: help you in fulfilling your e-mail duty.
Integrating your landing page with an e-mail marketing tool, such as MailChimp, Drip, GetResponse, or any other means you can plan e-mail campaigns and correlate them with lead generation. Each lead you acquire will receive an e-mail, but that's just the start. You will be able to plan and automate the entire process, whether it's a single email or a complex sequence of messages. Doing it once is much, much faster than going through the motions manually every time you get a new lead.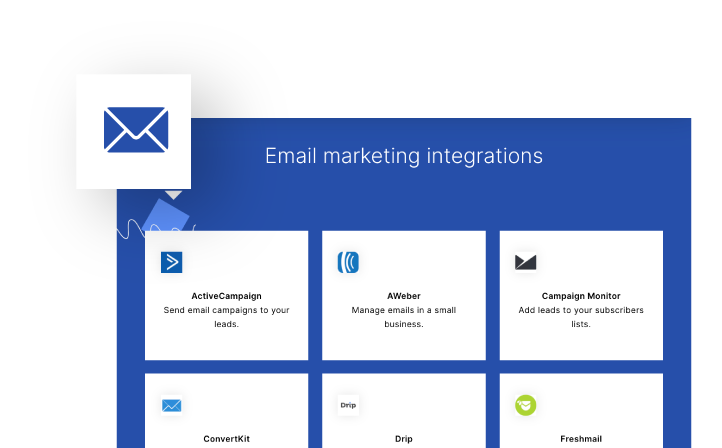 E-mail marketing integration
CRM/sales integration
Customer Relationship Management software is a vital part of running a company and having a CRM tool is crucial in some cases, especially when you have the pleasure of dealing with a lot of customers.
Integrating landing pages with CRM tools lets you divide leads into categories and add each of them to a different marketing funnel. Lead synchronization, scoring, verification, and organizing – all of this is possible with a proper CRM or sales tool, and the integration automates the whole thing.
Chat/callback integration
Improving your landing pages has no end. Adding a chat widget seems logical if you predict users may have some questions during the visit on your landing page. Also, if your goal is to contact potential customers directly, adding a callback widget to the page is a great idea to make visitors reach out to you.
Analytics integration
Statistics are essential for constant improvement, so it would be a waste to not include some analytics into your landing pages. Most landing page builders offer some kind of statistics, but they're usually really simple, giving you no more information than a number of conversions.
Integrate your landing page with Google Analytics, Facebook Pixel, or Mixpanel to make sure you're going in the right direction with the changes you make on a landing page. Or check if your builder offers a more complex, built-in analytics tool.